Amos- Your First Stop for Commercial Printing Services.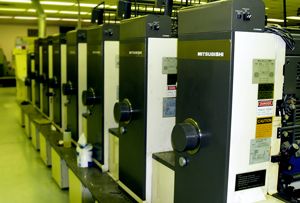 Consider Amos Communications your first stop for commercial printing projects. Specializing in business-to-business printing, we've been serving Akron, Canton and Youngstown for over 40 years.
Whether you need direct mail, catalogs, postcards, brochures, promotional products or more, Amos has the personnel and experience to get your job right every time. And when you can handle all your printing services in one place, why go anywhere else?
Amos Communications has been dedicated to 100% waterless printing since 1996. As one of only a few waterless printing companies in the United States, Amos Communications is capable of producing the highest level of quality in the most environmentally friendly manner possible. By eliminating water from the printing process we allow for faster press make-readies, less paper waste, and the most consistent color throughout the length of print runs. Our 40" six color press means that large format or high page-count book projects can be produced efficiently alongside smaller projects on our 28" seven color press.